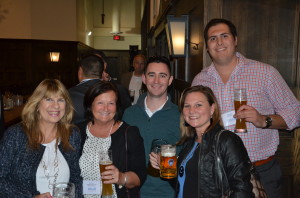 At ABD, we are always excited to take part in the evolution of the recruiting and staffing world. Our entire business is built around it. So, when we had a chance to host the first annual ISSA (Illinois Search and Staffing Association) Young Staffing Professionals event on Thursday, October 22nd, you can bet we were thrilled to contribute to a learning and networking opportunity for the next generation of recruiting and staffing talent.
The night was both informative and fun (really, which ISSA event isn't?) and attracted members from all across the Chicagoland area. The evening's agenda included insightful presentations from ISSA Board Members, a Q&A panel from staffing and recruiting veterans, and a little bit of networking at Hofbräuhaus Chicago.
ISSA Board Member Presentations
Presentations from ISSA board members gave our young professionals tips straight from successful and seasoned staffing leaders. Terri Koseki (ISSA President and Principal at TKG Career Consultants) presented an overview of LinkedIn best practices and tactics. Her advice ranged from profile layout to messaging candidates, providing everyone present with the basis for an optimized LinkedIn profile (I even learned a few things).
Teresa Olsen (ISSA Board Member and Executive Director of Recruiting at UC Talent) delved into the mentality and tactics that make any recruiter successful. She gave guidance to young recruiters, emphasizing the importance of being the mentor to clients and conveying a sense of urgency. Her unique perspective was refreshing for the audience.
Meeting of the Minds
After both presentations, there was some dialogue among audience members about the best way to send InMail messages with several people chiming in about their own tactics. The most common tip was to not directly ask the candidate if a position interested them, but if they knew anyone who might be interested in the position. That way, referrals are more forthcoming if candidates themselves aren't interested.
The Q&A panel that followed brought Terri and Teresa together with Rama Kavaliauskas (President at Sterling Engineering), Aurelija Cekalinas (Technical Recruiter at Sterling Engineering), and Russ Beaupre (Staffing and Consulting Expert). Andrew Stein moderated and we learned that not only is there no single line leading to a successful recruiting career, but each person had a motivation that fit with their own beliefs. It was a reassuring message for any young staffing and recruiting professional.
Business, Beer, & Bavarian Food
But the night wasn't over for the ISSA Young Staffing Professionals. At Hofbräuhaus Chicago, we had a chance to talk with everybody over drinks and some delicious Bavarian food. It was great to learn more about promising new recruiters and hear some of the insights they had to provide.
Overall, it was a tremendous evening that really showed what the ISSA has to offer. Once again, we were glad to host it and with the success of this one, we're eagerly anticipating the next ISSA Young Staffing Professionals event. Hope to see you all at the next one!
Terri Roeslmeier is President of Automated Business Designs, Inc., software developer of Ultra-Staff staffing software for the staffing and direct hire industry. Ultra-Staff is a full-featuredbusiness solution with components for front office, back office, mobile and web portal. For more information on Ultra-Staff go to www.abd.net.