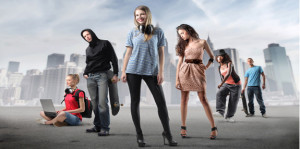 Generation Y, Millenials, Gen Next, the Boomerang Generation. Whatever you want to call them, they are making a lasting impression on the workplace. They are the 18-28 year olds who are reshaping our cultural and consumption patterns. Numbering some 68 million in the United States, Generation Y is progressively the most influential generation today. They have accumulated habits, tools, and technology much different from any generation before.
Being a Millennial myself, I have experienced some workplace biases and stereotypes during the interview process. These stereotypes are seemingly a reoccurring trend among employers.  The purpose of this review is to address three common misperceptions about Millennials and suggest ways to treat them as positive opportunities.
Misperception 1: They have a sense of entitlement. There's no doubt about it. Millennials exude confidence. Millennials have a strong sense of drive and determination; they enjoy challenges. Millennials strive in situations where they have to problem-solve and collaborate with other members of the workforce. This tendency may be a reason why Millennials feel that the "tedious, but necessary" tasks are just that: boring. Human Resources expert, Susan M Heathfield, states that Millennials seek ever-changing assignments and responsibilities within their work. This generation knows what they want, and they are not afraid to ask for it. Such boldness is not entitlement. They want to make a significant contribution immediately, and they want their input to be taken seriously. This attitude should not be looked at negatively, but rather, to be positively embraced. Millennials are proactive. Encourage this behavior, and they will not let you down.
Misperception 2: They always crave attention. I am not disputing that Millennials tend to have had a different upbringing when compared to that of previous generations. They grew up with doting parents who were involved in all aspects of their lives. Managers may have to change their approach, but they do not have to devote all of their attention constantly to yield results. The "no news is good news" workplace mentality is no more. Millennials thrive on feedback and yearn for it on a daily basis. However, this does not mean that they seek praise for every single task they do. They want exactly what it means: honest feedback. If they are not completing tasks as expected, let them know. Positively reinforce what they are doing right. Give them examples. Lay out a specific format and structure. Heathfield  points out that Millennials are used to following directions. Clarity in all practices is crucial.  Since their parents had high expectations of them, Millennials hate to fall short and disappoint. Recognize the major accomplishments and meaningful contributions that highlight their skillset and talents as employees.  This recognition will enhance the manager/employee relationship.
Misperception 3: They lack work ethic. Let's face it: Millennials and Boomers have a different sense of work ethic. Boomers have the mentality that the more time and effort put into a job, the more favorable the outcome. Millennials, the tech-savvy generation, grew up with access to a completely different informational outlet than Boomers had, namely the Internet. Because of this tech-heavy experience, Millennials can figure out ways to accomplish tasks more efficiently and effectively by streamlining processes. In the eyes of a traditional Boomer, this kind of initiative appears to be laziness. In the eyes of a Millennial, it's ingenious. Heathfield points out that Millennials are used to having their time filled with multiple activities. Time management is a key factor in their lives. They have discovered productive ways to accomplish and succeed in the workplace. The typical 60-hour work week as defined by the Baby Boomers is not a lifestyle choice for the Millennial.  Family, outside activities, friends, etc. are all priorities in their lives. Amy Chulik from CareerBuilder states that this generation has no problem with work, or with the idea of working hard; it's the simple fact that most Millennials do not let their job "define" them. Employers should accept this approach to work – and life — and provide a flexible work environment. Have flexible benefits, offer incentives that allow them to take time off, allow them to work from home if accessible. Provide options and be open!
Instead of focusing negatively on the differences of this generation, try to find the positive aspects and embrace their strengths. This group is energetic, sharp, and fearless.  They can multi-task better by far than any other generation. They are technologically savvy, resourceful, and are used to a consistent communication environment. They are fantastic networkers, strong team players, and are more connected to outside sources. Generation Y is the future of the work environment.  Have an open mind, and – who knows – maybe you will learn a thing or two from your Millennials employee.
Megan Curth is the Marketing Coordinator  of Automated Business Designs, Inc., software developer of Ultra-Staff software for the staffing and direct hire industry.  Ultra-Staff is a staffing software business solution with components for front office, back office and the web.  Megan's email address is megan.curth@abd.net or for more information on Ultra-Staff go to www.abd.net