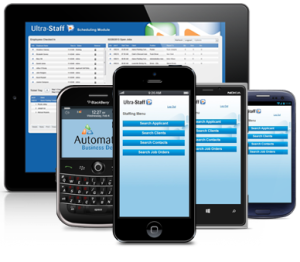 With today's increasing trend of mobile device use in the workforce, it is becoming imperative that recruiters have access to their staffing software's data at any time and from anywhere. The staffing and recruiting industry is always "on the go" which is why mobile recruiting has been the talk of the town for quite a while.
With the new generation of recruiters, the need to have staffing software mobile has become increasingly important to a company's success. People are no longer tied down to the constraints of office walls. They are on the move. They are meeting clients and prospects face to face, gaining their trust, and making more placements. Much of this is due to staffing software's ability to keep up with a recruiter's fast paced way of life.
While setting appointments with potential and current clients, today's recruiters need mobile tools to help them succeed. Their staffing software should give them the ability to access their CRM on the commute to work, from home, or wherever they find themselves next. Recruiters need the ability to look up a key contact's email address, write and send them a message, and log their interaction from their mobile or tablet device.
Enroute to a prospects office for the first time? Use your staffing software's mobile capabilities to pull up directions straight from their client record. While you're at it, why not run a quick client search for every client/prospect in the area so you can catch up and see if they have any new business for your company? There should be no reason that you have to stay in constant contact with your office to get the information you need to help grow your business!
Having a mobile and tablet compatible staffing and recruiting software will ensure that nothing slips through the cracks when wrapping up onsite meetings and visits. Your recruiters need to be able to enter all of the pertinent information as it's fresh in their mind. All notes should be updated in your company database for the rest of the team to see in real time. This ensures that no lines are crossed and they can start on next steps to growing your business as soon as possible.
High energy staffing professionals don't let a good opportunity pass them by. If they are out on the road, getting and filling orders is their main focus. Why wait to enter a new order for when you're back at your desktop? Mobile staffing software gives you the tools to place an order right away so your team can start filling it immediately. If you have the perfect candidate in mind, you should be able to pull their applicant record and send off their resume at the drop of a hat. Having all of this information at your fingertips will help drive revenue and close business faster than ever.
All of this is possible if your staffing software provider is staying up-to-date with all of the industry trends. You need to distinguish yourself from the rest and your ability to stay informed and be ready at any moment will give you that edge over the competition. With the right staffing software tools, you and your team will never miss a beat!
Going Mobile?
Learn how to make the best Mobile Recruiting strategy for your company. Download our Ultimate Guide to Mobile Recruiting today!

Jacob Wilson is an Account Manager at Automated Business Designs, Inc., software developer of Ultra-Staff staffing software for the staffing and direct hire industry. Ultra-Staff is a full-featured business solution with components for Front Office, Back Office, Mobile and Web Suite. For more information on Ultra-Staff Mobile, download our Ultimate Guide to Mobile Recruiting!