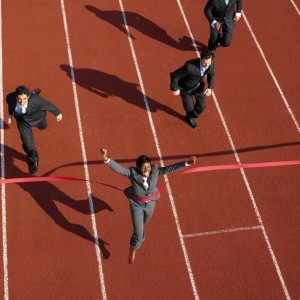 In the business world, it is important for companies to differentiate themselves from their competition. Organizations need to figure out what makes their products different, how their products suit their customer's needs, why consumers should pick their product over the other competitors. For some companies, it may be quite clear as to what differentiates them above the rest. However, for staffing and recruiting companies, the answer may not be so cut and dry.
The staffing industry is a multi-layered and unique industry, and not all staffing companies are alike. It may be hard to tailor this general business practice to a staffing company's specific structure, but with the right tools (staffing recruitment software among them) the trick to standing out from competitors is not unattainable. 
I came across an article in the November/December issue of Staffing Success called "Dig In and Differentiate" By Carolyn Thompson. This article discusses the art of differentiation and why it is so important for staffing and recruiting companies to practice this strategy. This blog post will provide highlight some of the tips she provides, as well as my individual input, to help differentiate your staffing company  in order to improve short term and long term business operations.
1.     Identify who you are. In a service based industry, it is crucial for you to have an intimate knowledge of what clients want, and how your specific set of services will fulfill their needs. Specify items that you can claim expertise and success that are directly related to the work you do and the service you provide. Fully define in quantifiable terms of how effective or efficient your company is for your potential clients. Does your staffing company place the most candidates in the shortest amount of time? Do you have a high temp to perm conversion rate? Do you offer client web portals? Can you produce automated reporting for them regularly?  What about invoice styles available and delivery by email?  Gather measureable information and relay it onto your potential clients.
2.     Target your efforts.  This goes beyond targeting your market. In order for staffing and recruiting companies to successfully create a differentiating advantage, they must identify what they are best at under specific criteria.  This can include geography, types of clients you serve, the business stage of your clients, the industry you cater to, etc.  Dig deeper in your market and offer extensive services for specific niches, rather than become the "jack of all trades".  Think more about the depth rather than breadth of your services.
3.     Enhance reputation and build credibility.  One question comes to mind in all consumers' heads: Why should I believe you? Listing off your quantifiable ROI and assets may be great and sound impressive, however if they don't answer this one question, you are wasting your time and energy.  Building up credentials gives clients the confidence that your company can, and will, deliver the service you're promising. These credentials may include recommendations, testimonials, years of expertise, memberships, etc. Think about what makes your client hesitant in the first place. What is at risk for them?  Make sure your credentials will eliminate any risk that your clients may come across in their decision making process.
4.     How are you different? What does your company do differently than other staffing and recruiting companies in your niche? Is it how you source your candidates? How you prep your candidates for interviews?  How are your clients getting the best service? Identify that one step in your screening process, that one question in your interviewing method, that one element that gives your company that competitive advantage. Identifying this differentiating value is crucial.  Once you have discovered the differentiating factor, make sure you illustrate the answer so that it is meaningful for clients.
How Staffing and Recruiting Companies Can Empower Themselves
Accurately defining your company's individuality is not easy. It involves some analysis, reason, and a sophisticated thought process. Once you have developed your differentiating strategy, it can be extremely beneficial. It will empower your company to focus its energy to the right type of clients, the right processes and business tactics, and focus on achievable efforts.  The staffing and recruiting industry is not a one size fits all industry. The same applies for the companies who provide the services.
"Dig In and Differentiate" appeared in the November-December issue of American Staffing Association's Staffing Success magazine. www.americanstaffing.net
Megan Curth is the Marketing Coordinator of Automated Business Designs, Inc., software developer of Ultra-Staff staffing software for the staffing and direct hire industry.  Ultra-Staff is a staffing software business solution with components for front office, back office and the web.  Megan's email address is megan.curth@abd.net or for more information on Ultra-Staff go to www.abd.net