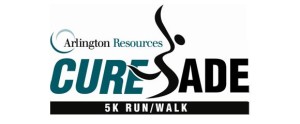 There is nothing more rewarding than being involved in a project for a good cause! Automated Business Designs has been involved with the Northwest Community Hospital Cancer Patient Assistance Fund for the past three years. It was Patty Casey, owner of Arlington Resources, who introduced Automated Business Designs to this wonderful opportunity. Arlington Resources has been involved in the Northwest Community Hospital Cancer Patient Assistance Fund since 2011.
Patty and her staff at Arlington Resources realized there was a need to get involved and reached out to her daughter's cross country coach to get some insight on organizing a 5k to raise money for a good cause. With a little bit of research, Arlington Resources chose to raise money for the Northwest Community Hospital Cancer Patient Assistance Fund. The money raised for this fund helps cancer patients who are struggling to pay their everyday bills. Many patients have to put their jobs on hold in order to seek treatment, making everyday life challenging.
The CureSade 5K Run/Walk event is named after the term crusade, which symbolizes a cause. It is a great way for the Arlington Resources team to bond since they spend a significant amount of time organizing the race. Many participate in the race including coworkers, family, and friends. Each year participation increases and to date the event has raised over $20,000.
The wonderful thing about this race is there are so many opportunities to get involved! There are many companies who help sponsor the event as well as participate in the race. While ABD and other companies have sponsored the race shirts for the past three years, other organizations have donated their time and money by providing water, food, and exciting raffle prizes!
Arlington Resources will match 100% of all the donations made to the fund! This year the Arlington Resources CureSade 5K Run/Walk will take place at the Deer Grove East Forest Preserve on the Red Loop Trail in Palatine, Illinois. The race will be held on Saturday October 4, 2014 and race activities start at 8 a.m. If you're interested in getting involved or participating please reach out to Jake Joyce at 5kcuresade@arlingtonresources.com or visit the CureSade website at www.signmeup.com/102263
Natalie Chrapla is the Marketing Coordinator of Automated Business Designs, Inc., software developer of Ultra-Staff staffing software for the staffing and direct hire industry. Ultra-Staff is a staffing software business solution with components for front office, back office and the web. Natalie's email address is Natalie.Chrapla@abd.net or for more information on Ultra-Staff go to www.abd.net.