Ultra-Staff Staffing Software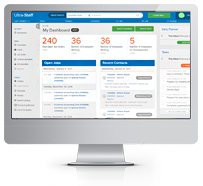 Ultra

-Staff Software

Ultra-Staff is the only staffing software that offers a full-featured experience at the entry or enterprise level. Ultra-Staff's cloud driven technology promises to deliver.

Web Portals
Ultra-Staff Web Portals provide an access point to information that is mined and distributed to and from the Ultra-Staff staffing and recruiting database. The concept is simple. The benefits are momentous.
Mobile
Mobility and large amounts of data is the new IT. Driven by the cloud, technology must offer the agility demanded by users who want robust applications deployed simply. Enter Ultra-Staff Mobile. Take Ultra-Staff "everywhere".
Cloud Hosting
With the Ultra-Staff Hosting Model, you can focus on the business of staffing and let ABD take care of the complexities of hosting software.
Features
Easy to Use
Ultra-Staff is a completely menu-driven system with a familiar "look and feel".
Feature-Rich
Although Ultra-Staff is the easiest software you will ever use, it is also the most feature-rich.
Scalable
Ultra-Staff supports small and large organizations with its ability to accommodate multi-corporation, multi-branch and multi-line of business requirements for front and back office.
Mobile
Ultra-Staff goes everywhere as it is cloud driven and can be used on your mobile device.
CRM
Ultra-Staff is a complete Customer Relationship Model as it brings your organization together with sales and marketing tools, recruiting, staffing & placement and back office.
Employee and Customer Portals
Build relationships by offering your clients and candidates web portals and mobile access to important data. Impress with technology that is at its best.
Front and Back Office
Ultra-Staff can be implemented with or without Ultra-Staff back office.
Cloud
Ultra-Staff is implemented as a subscription-based cloud model.
Best Support in the Industry
ABD offers the "best support" in the industry. Our people are friendly, knowledgeable and helpful. Ask any client.