Ultra-Staff EDGE Front Office Staffing & Recruiting Software
A full featured recruiting software experience.
Ultra-Staff EDGE Staffing & Recruiting Software offers a user experience that customizes business processes by role.  Because a salesperson uses a different process than a recruiter, and temp/contract jobs are filled differently than direct-hire, designing screens by workflow significantly increases productivity.  Data should effortlessly flow through the process and be accessed quickly when needed.  Couple a better workflow with a world-class support model from ABD and you have the best front office / CRM imaginable!
Request a Demo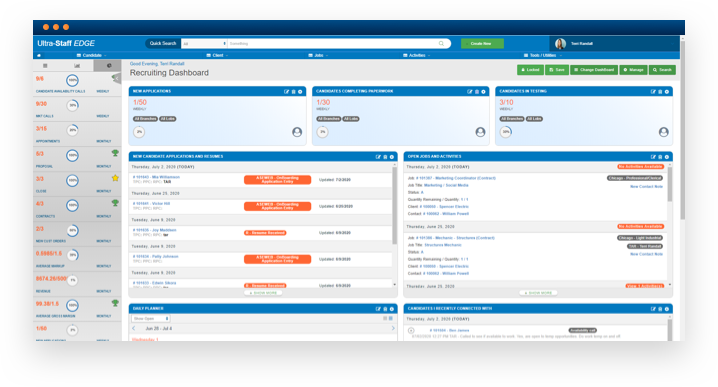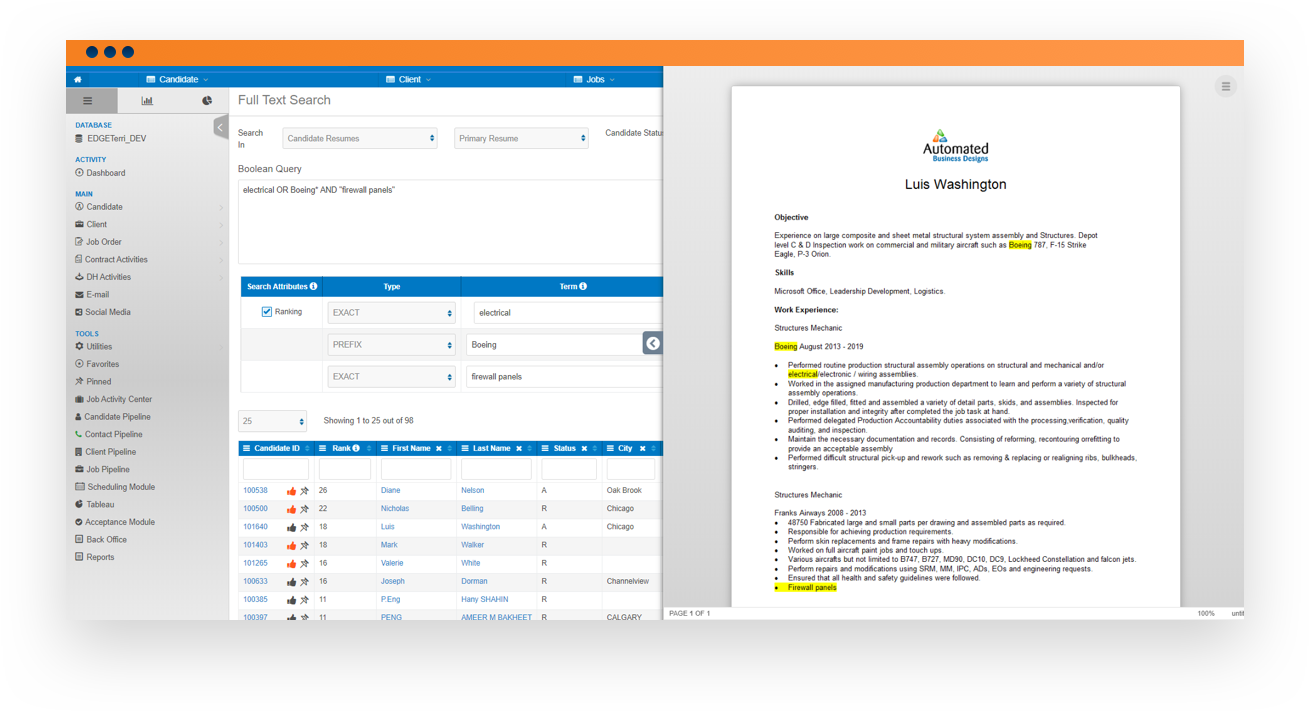 Orchestrate your front office operations with Ultra-Staff EDGE Staffing & Recruiting Software
Contract (Temp) and Direct Hire Job Order Management
Built-in customizable interactive dashboards
Data mining, high-speed full-text Boolean search, "AI" smart ranking and search word highlighting
Secure communication via email, text, and social media with transaction logging
Multiple EIN, branch and line-of-business seamlessly handled
Amazing staffing & recruiting features for the entire company.
Manage Sales Funnels and Pipelines
Harmonious integration with Microsoft Outlook®
Configurable rate tables by position, shift, department (unit), client (facility) and candidate (employee)
Customizable drop-downs throughout the application
Configurable screens to make it your own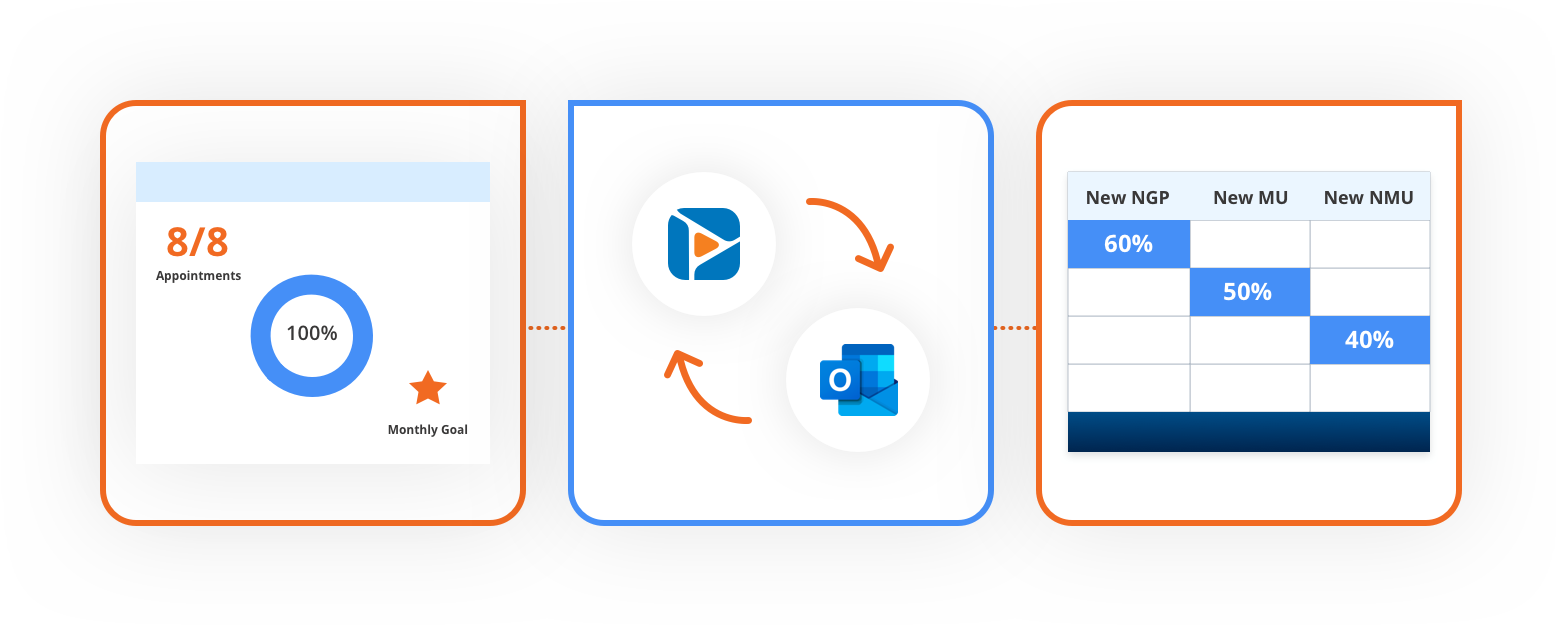 Built-in Staffing & Recruiting Software Tools Your Team Will Love
Daily Planner and Daily Planner Loader
Never miss a follow-up. Track sales calls, customer service calls, arrival checks, interviews, availability and other important follow-ups. Every follow-up date will automatically hit the daily planner. Use the unique Daily Planner Loader to load the planner with call lists for you or your team. Call management was never this easy!
Resume Import/ Management
Import candidates and resumes from the Microsoft Outlook® toolbar directly from Outlook®. As another option, import candidates and process resumes in bulk directly from Ultra- Staff EDGE Staffing & Recruiting Software. Simply browse and select or drag & drop PDF or text resumes into the tool. Full duplicate checking to avoid parsing in candidates that already exist in the database. Blinding and branding option upon import. Multiple, editable resume copies can be kept on file for client submission.
Batch Contract Activity Manager
With the batch contract activity manager, edit contract activities in bulk. Update Status; Shift; Start and End Dates; and Pay and Bill Rates in batch. This is the ideal tool to use when you need to update hundreds of assignments. Quick and simple!
Job Activity Center
Make open job review meetings more productive with the Job Activity Center. The Job Activity Center presents an easy-to-use drill-down view of all job activities for contract/temp and direct hire job orders. Update activities, enter notes and view resumes and candidate profiles instantly from one convenient screen. Fill orders quicker by keeping a pulse on activity.
Email and Forms Templates
Create unlimited templates for email use and to create custom forms. Easily merge pertinent data and import a logo. Efficiently manage employee start forms, send out forms, interview reminders and a host of other unique forms for your company.
Manage Workflows and Quotas
Customize workflows and quotas for daily, weekly, monthly and quarterly measurements. Track activities real-time for individuals, teams, branches and lines of business. Monitor activity vs. quota. Front and Back Office data is securely married and made available in Ultra-Staff EDGE front office for executives and managers.
Pipelines
Create Pipelines for candidates; clients/ prospects; client contacts; and job orders. Customize the view and perform a variety of tasks directly from the pipeline such as text, email, and even assign and schedule interviews. Share pipelines with internal team members and engage the team to fill orders faster and better. Pipelines help you to effortlessly engage regularly with your candidates, clients and prospects.
Data Import Tool
Import candidate and prospect lists to keep your database up-to-date with new leads. This highly configurable tool checks for duplicates and can be securely accessed by team members with the appropriate security.
Shortcuts
Love to use shortcut keys to display information with a quick click? You will enjoy incorporating shortcut keys to instantly produce information that you need.
Ultra-Staff EDGE Webinars
Want to learn more about staffing model software? Ultra-Staff EDGE Webinars are available on-demand directly from Automated Business Designs. Conveniently watch what you want, according to your personal schedule. Webinar times range from 5 minutes to an hour.


We have been a customer of ABD for over 16 years. Since that time we have grown well over 600% as a company. There is no question that our partnership with ABD, and the use of their
staffing software
 has contributed immensely to our success. The team at ABD is responsive and forward thinking. Most importantly, they are people I enjoy working with. I would recommend ABD to anyone that is considering making their business better.
David Donald | President | PeopleShare


Active Staffing has been an ABD Ultra-
Staff
customer for more than 20 years. In that time, our annual revenue has grown from $10M to $65M and ABD has grown with us. Their all in one solution for front office, back office and CRM, combined with one-click integrations for eVerify, background checks and recruitment ads, create tremendous efficiency for our operation and peace of mind for our leaders. Over the years, three things have made ABD a valuable partner to the Active Staffing team. The owners, John and Terri, are always ahead of the curve on compliance and legislative changes, constantly updating their software to keep pace. The entire team is responsive and available, 24/7. And, they are always open to our suggestions for future updates. ABD Ultra-
Staff
is more than a vendor; they are truly part of our success.
Benny Elzweig | COO | Active Staffing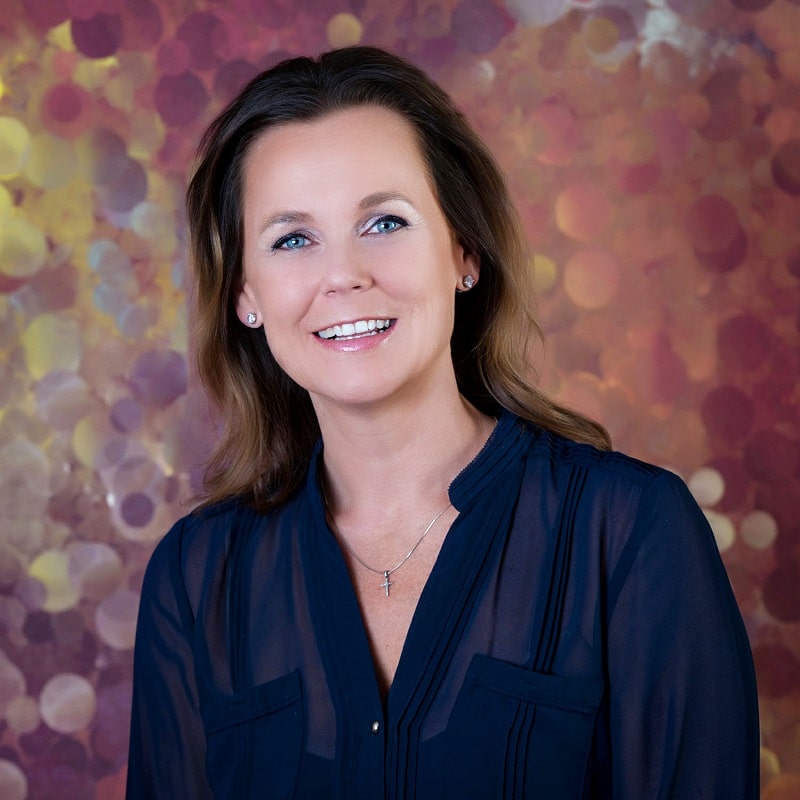 Ultra-
Staff
staffing software is progressive and has been a key component in streamlining our processes and enabling our growth as a company.  The platform allows the flexibility and functionality which is crucial for success. Ultra-
Staff
EDGE
is an all-encompassing software solution: from their seamless integrations with outside services/vendors to an intricate back office.  I would recommend Ultra-
Staff
to anyone looking to improve their business efficiencies or starting a new venture and looking for a customizable solution.  We have truly enjoyed the working relationship we have developed with ABD.  They have a unique way of making a customer feel their voice is being heard.  Their response time and ability to meet their customer's needs is impressive.  The ABD team's customer service is second to none!
Joy Pearson | President and Branch Manager | Source Medical Staffing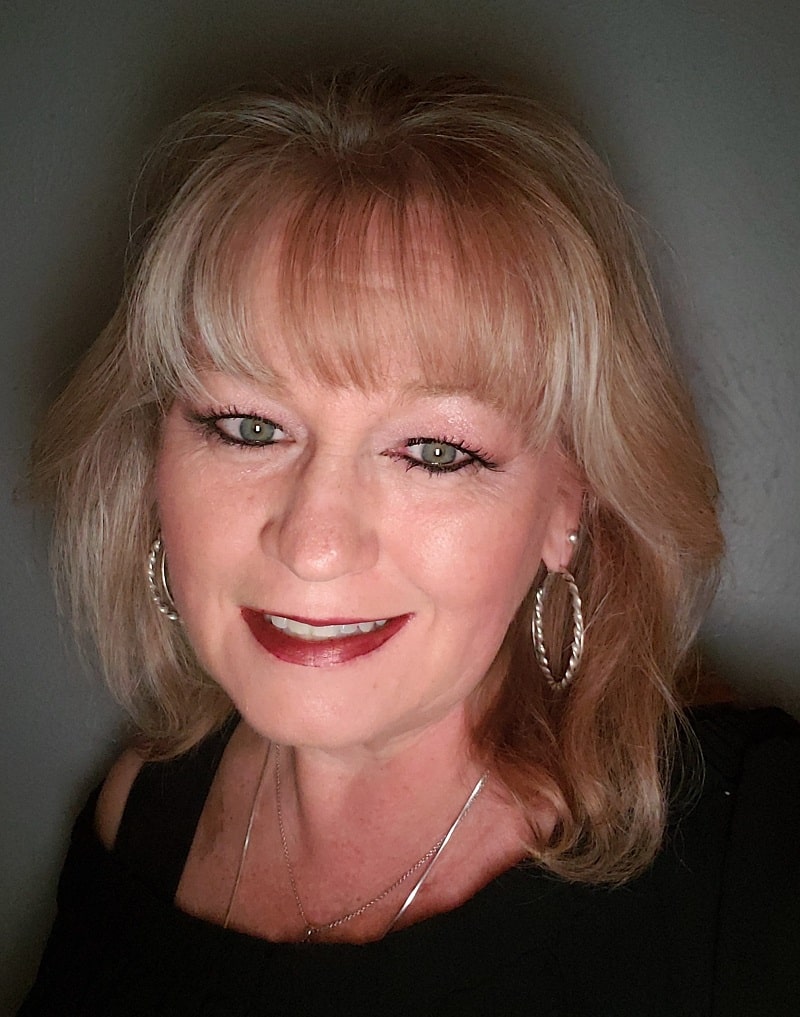 High Profile Staffing has partnered with ABD using Ultra-
Staff
since 2007. In February 2019 we upgraded to Ultra-
Staff
EDGE
to take advantage of the cloud-based system that integrates with several of our other vendors and software platforms. It was a smooth transition to upgrade – literally overnight! Some of the features that we quickly learned we cannot live without are the Dashboard, Daily Planner, Customizable Screens, Job Activity Center, Tableau, Text-Em-All, and access to recorded webinars at the click of our mouse. The support staff at ABD has always been very responsive. They are just a phone call away to answer any questions, and assist with any training.
Wanda Dowdy | VP Administration and Finance | High Profile Staffing


Excel Partners has been with ABD since 1996, and while we love the Ultra-
Staff
product, we are even more pleased by the service we get from them. I've never worked with a
staffing software
company that is as responsive and helpful as ABD. We call them with a great deal of confidence that our issues will be addressed quickly, accurately and thoroughly. We feel that Ultra-Staff has contributed significantly to our growth and overall success. ABD has been an excellent partner through the years. We would definitely go with them again, and we're looking forward to many more years in partnership with ABD.
Gary Gilbert | Principal | Excel Partners


The Ultra-
Staff
suite of staffing software products has allowed us to streamline our staffing business process providing more timely response to our client's needs. The scheduling module in particular allows us to quickly and efficiently select applicants for job orders with its drag and drop feature.
Dan Folino | Director of Information Technology | Minute Men Staffing Services


Ultra-
Staff
is integral to the success of our business in so many ways. It's integrated our entire business… from strategic front office tools, to comprehensive pay/bill, web integration and more. Our clients, applicants and employees benefit every day from our system.
Susan Young | President | The Mahone Group
Frequently Asked Questions
We've put together the most common questions we get asked about Ultra-Staff EDGE. If you have a question that you can't find here, please contact us directly for more information.
Contact Us
Great question! Ultra-Staff EDGE offers full CRM staffing solutions including pipelines, quota tracking, intense search tools and an integration with popular marketing automation products for a full-service model.
Yes! Produces standard or customized financials by EIN.
Automated Business Designs is completely focused on the staffing industry. ABD is the most experienced partner, having serviced the industry since 1982.
ABD customers are hosted at a highly secure data center with strong protocols and cloud management for security and high uptime.
ABD services a wide range of staffing from day labor to high level direct hire placement. Ultra-Staff EDGE's customizable interface contains tools for every level of staffing.
See How Ultra-Staff EDGE Front Office Can Bring You Results