Healthcare Staffing Software
Ultra-Staff EDGE Staffing Software is an award-winning solution for healthcare staffing companies who need a product that supports the unique needs of healthcare companies like shift-based scheduling. This straightforward yet powerful online tool addresses issues such as credentialing, pay/bill breakouts, and shift differentials.
How Does Ultra-Staff EDGE Staffing Software Help Healthcare Staffing Companies?
We've identified specific needs of healthcare staffing companies that are especially important to the continuous, smooth operation of staffing, scheduling, and team management.  What makes Ultra-Staff EDGE unique is that it is designed for both per diem and travel. Whether you staff for one or both, Ultra-Staff EDGE has you covered.
Request a Demo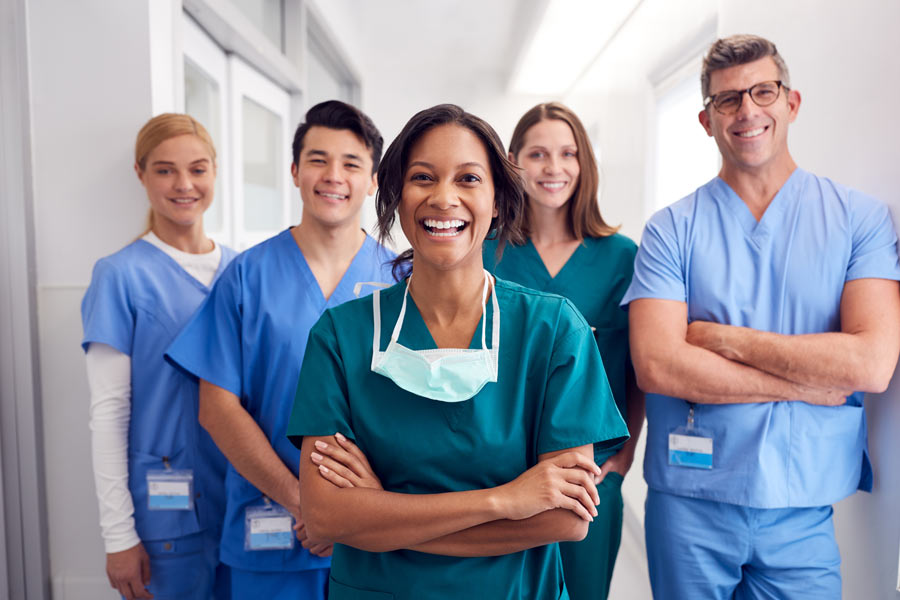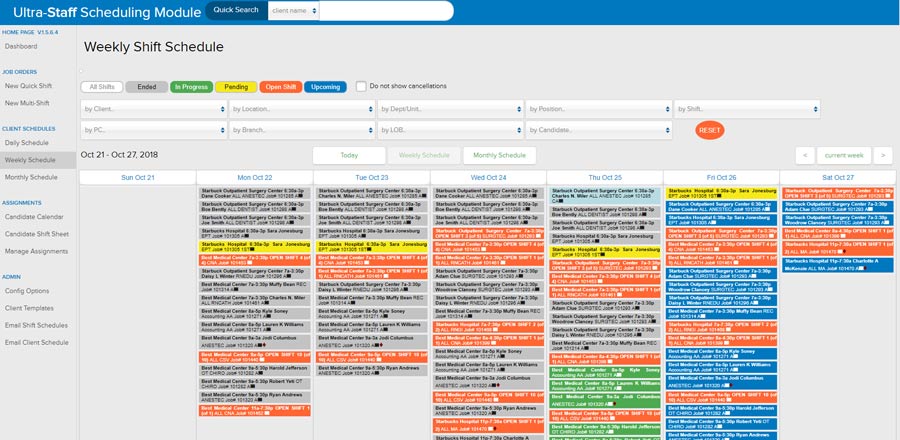 Shift Management
Ultra-

Staff

EDGE

gives you the ability to create and manage all shifts individually or in bulk.
In addition, you have the ability to modify the shift start/end date, start/end time, quantity, reporting information, credentials, and skills.
Medical pay and bill rates can be predetermined by customizable tables. These tables allow for the creation of bill and pay rate schedules that are potentially impacted by class, client, shift, day, experience and/or employee.
You can also add on fees for travel, per diems, on-call/call-back. Contract rates of all types are automatically used by

Ultra-

Staff

EDGE

.
Pay Package Calculator
The Pay Package Calculator helps medical staffing companies schedule travel nurse packages and long-term assignments that involve sign-on bonuses, per-diem, and other travel perks that require gross margin to be assessed.
The Pay Package Calculator provides medical staffing companies a detailed calculation and analysis of Pay/Bill Hours, Pay/Bill Rates, Overtime Calculations, Bonuses, Holidays, etc., that are offered to a candidate as a part of a job. Once the basic information is entered on a Pay Package, it provides you with an Expected Gross Margin Percentage and Mark Up.
When the pay package is complete with the benefits and compensations, it can be emailed directly to the employee from the software to be accepted or declined.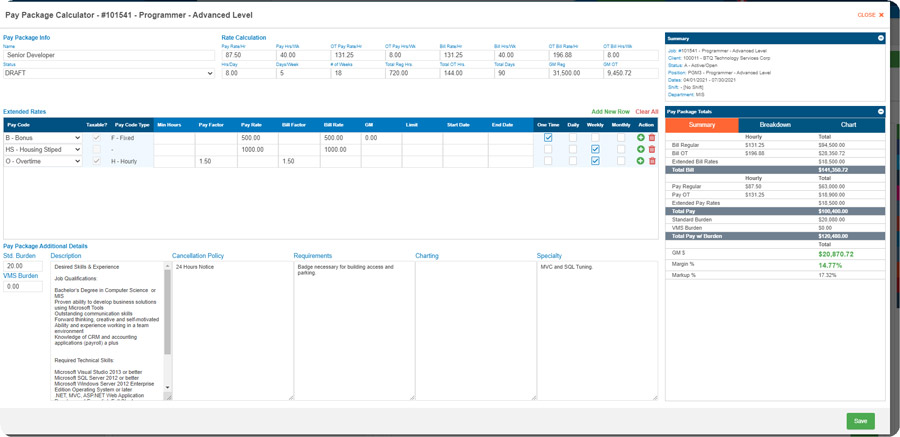 More Software Features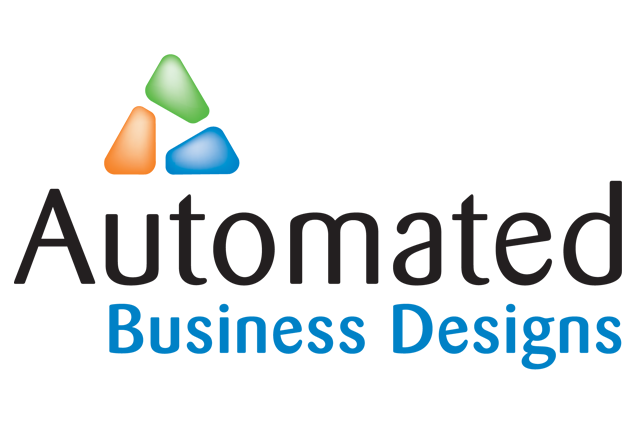 Availability and Work Schedules
Employees can conveniently log into the Web Portal or Mobile Portal to indicate when they are available to work and to see their work schedule. Likewise, the client can view upcoming shift schedules on the Web Portal. Schedules can also be emailed to both the employee and client.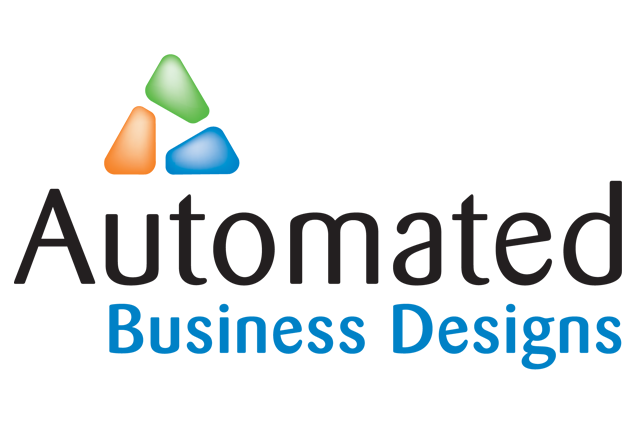 Search Tools and Staffing Shifts
Ultra-Staff EDGE power search tools allow you to find qualified employees and decrease your time to fill. Availability, schedules, credentials and shift preferences are all taken into consideration, so you will never encounter a scheduling mistake. From the search results you can easily send out a text message to employees to see who is able to work your shift.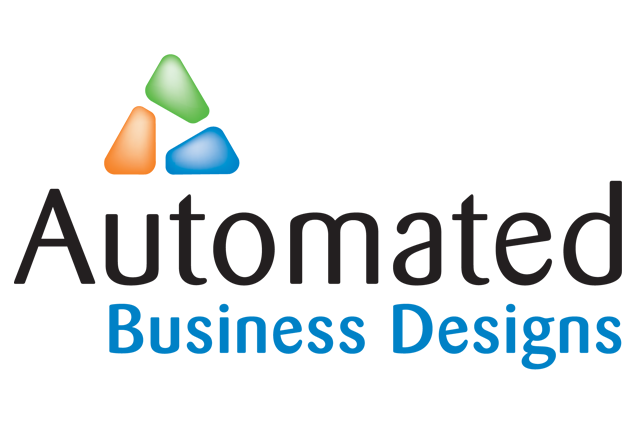 Credentialing
Up-to-date staff credentials are of major importance in the healthcare field. Ultra-Staff EDGE can track any number of licenses, certifications, or other necessary compliance pieces. In addition, Ultra-Staff EDGE can store and track all of the details to these credential pieces, including dates granted, expiration dates, license numbers and more. Automatic reminder notifications can also be issued through mass email and mass texting to individuals with expiring/ expired credentials, all while having a hard stop on placing any candidates with these missing or expired pieces.
Frequently Asked Questions for Healthcare Staffing Software
We've put together the most common questions we get asked about Ultra-Staff EDGE Healthcare Staffing Software. If you have a question that you can't find here, please contact us directly for more information.
Request a Demo
Yes, Ultra-Staff EDGE handles both. Shift Scheduling contains a color-coded calendar interface that makes handling Per Diem Shifts a fast and easy process. Manage your Travel Assignments from start to finish. The included Pay Package Calculator provides complete gross margin projections with an interface to GSA Rate Schedules.
Yes, it is. Manage pricing by facility or employee, breaking down rates by Role, Shift, and Department, plus extended rates for OT, Per Diem, Bonus, etc.
Yes. The system checks for the appropriate credentials, including documentation, license numbers and expiration dates. Professionals can upload credentials via a handy web portal.
Yes, it can. With the built-in Compliance Module, several levels of security are provided utilizing a highly configurable model. Even send out automatic internal and employee expiration notifications!
Yes, schedules can be emailed utilizing customizable parameters such as 2-week start, Start/End Dates, Branch, Shift and more!
See Healthcare Staffing Software Designed For Your Needs