Automated Business Designs Wins 2017 Stevie® Award for Great Employers
September 29, 2017
Ultra-Staff Staffing Software provider awarded a Bronze Level Stevie® Award for Employer of the Year– Computer Software– Up to 250 Employees.
CHICAGO, Illinois — Automated Business Designs, Inc. (ABD), developer of Ultra-Staff staffing software, won a Bronze Level Stevie® Award during the 2nd annual Stevie® Awards for Great Employers. ABD is honored to be recognized in the category of Employer of the Year — Computer Software — Up to 250 Employees.
The Stevie® Awards for Great Employers is a world-wide competition, honoring the best professionals, achievements, new products, suppliers, HR teams, and companies to work for.
More than 500 companies were nominated for the various awards in the competition. Nominations were based on the organization's achievements since the beginning of 2016 that made the companies great employers.
The application for the Employer of the Year award required extensive detail of what made the nominees such great places to work. ABD was eager to share the countless reasons their employees love working at the company.
Some of the highlights on the application were an outstanding benefits package, company celebrations for employees and cultural holidays, employee recognition, dedication and encouragement of philanthropy, and great communication practices.
Employee testimonials were also included in the application.
ABD employee Russ Beaupre said, "This is a great group of diverse people all working toward a common goal of making good things happen for our customers. A great office environment. Plenty of opportunities to grow and be challenged with the freedom and support needed to achieve success. Warm and welcoming team events, birthdays, and monthly all-office lunches that are regularly scheduled to foster teamwork. ABD has a tradition of product excellence and innovation in product development."
"ABD has created a collaborative environment that pushes the staff to grow every step of the way. The investment in its people is substantial. While ABD is an organization that cares about delivering a great software solution to its clients, it also takes significant time and attention in making its people the best they can be. ABD has discovered that only once its own staff is happy, fulfilled, and challenged can the best unsurpassed service be delivered to its clients," said employee Kelly Rosenberg.
The nominations for the Employer of the Year categories were judged based on ratings of professionals and votes from the general public.
One judge said, "Automated Business Designs has an excellent benefits package, company culture and commitment to health and well-being and Corporate Social Responsibility […]"
Another judge commented, "Your organization is making a good effort to engage and motivate employees. Congratulations on your success to date."
The award ceremony was held on September 22nd in New York City.  ABD's Vice President of Systems Engineering, Molly Nessinger, accepted the award on the company's behalf.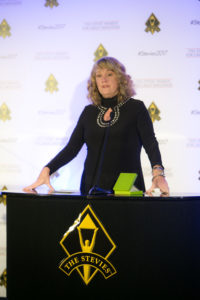 In her acceptance speech Nessinger said, "I am honored to accept this award on behalf of the owners and the dedicated, passionate employees that make our software and our service, most importantly, the best in the business. And we always remember it's not only a great place to work, they are great people to work for."
You can watch a video of Molly accepting the award at the bottom of this page or by clicking here.
The Employer of the Year award is the third company culture based award for Automated Business Designs since 2016. In May 2016 and 2017, Automated Business Designs was named one of Chicago's Best and Brightest Companies to Work For®.  ABD also received a Bronze Level Stevie® Award for Company of the Year in Computer Software during the 15th annual American Business Awards in May 2017.
To learn more about Automated Business Designs and Ultra-Staff staffing software, visit www.abd.net. Details about The Great Employers Awards and the list of 2017 Stevie® winners are available at www.StevieAwards.com/hr.
About Automated Business Designs
Automated Business Designs, Inc. has been in business for 35 years, producing the staffing and recruiting software solution Ultra-Staff made specifically with staffing companies in mind. ABD offers a customizable staffing experience that benefits both clients and candidates through an integrated front office, back office, web suite, and mobile applications. With unique perspectives, in-depth staffing knowledge, active membership in the American Staffing Association (ASA), National Association of Personnel Services (NAPS), Minnesota Recruiting & Staffing Association (MNRSA) and board member status in the Illinois Search and Staffing Association (ISSA), ABD delivers hiring results from beginning to end.