Automated Business Designs Named a 2023 Best and Brightest Company to Work For® in Chicago and in the Nation
July 19, 2023
Staffing and recruiting software provider wins distinguished company culture award.
CHICAGO, Illinois–Automated Business Designs (ABD), developers of Ultra-Staff EDGE staffing and recruiting software, was named one of the Best and Brightest Companies to Work For® both in Chicago and in the Nation.  This distinguished honor is the eighth consecutive year that ABD has been recognized by the Chicago Best and Brightest Program and the seventh consecutive year that ABD has been recognized by the National Best and Brightest Program.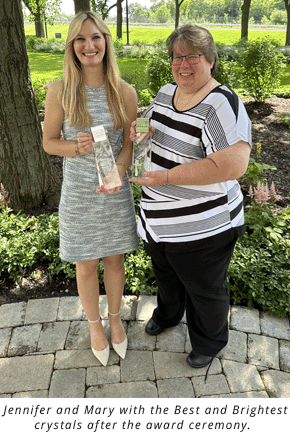 The Best and Brightest Program honors companies that distinguish themselves as having the most innovative business acumen and thoughtful human resource practices.  The ten-to-one ratio of this program distinguishes winning companies as truly innovative in their employee engagement execution. An independent research firm evaluates each company's entry, based on key measures in various categories.  With over 25 years of experience conducting the Best and Brightest competitions, the National Association for Business Resources (NABR) has identified numerous best Human Resource practices and provided benchmarking for companies that continue to be leaders in employment standards.  Organizations must complete a rigorous application demonstrating their employees are provided with the resources and support for both professional and personal success. Additionally, organizations are judged by confidential employee responses.
ABD exceeded the national median score in several categories including Community Initiatives and Corporate Responsibility; Diversity, Equity, and Inclusion; Teamwork & Cooperation; Creative Wellness and Wellbeing Solutions; and Leadership, Strategy, and Company Performance.  ABD's nomination included details of their comprehensive benefits package, which includes 100% Blue Cross Blue Shield healthcare coverage paid for by ABD and a generous 401K company match. It also highlighted the company's hybrid work schedule and flexible PTO that helps foster a healthy work-life balance.
One of the biggest achievements this past year was the company celebrating its 40th anniversary. All team members were involved in celebrating this major achievement, which included a Virtual 40th Anniversary Client Party, a 40th Anniversary Party with ABD team members and their families, and plenty of 40th Anniversary Swag that was given to ABD team members and taken on the road to conferences. ABD was also awarded a Gold Stevie® Award for Best Employee Scheduling Solution and received recognition on G2®, a leading software review site.  ABD's software solution, Ultra-Staff EDGE was awarded with several badges from G2 including the Users Love Us Badge, the High Performer in Staffing Badge, and the Highest User Adoption Badge. All of these achievements help ABD excel as a Best and Brightest Company to Work For.
"Recognizing these achievements really helps remind the team of the impact they make every day," said Michelle White, Director of Customer Success at Automated Business Designs. "Every team member plays an integral role in the software we provide to the staffing industry and the service we bring to customers.  It's important to take a moment to recognize new achievements we make as a team because it is something that everyone can be proud of."
A new best practice that was introduced this year is a training and certification program to recognize internal achievements and foster professional growth. ABD focused on a series of programs that include departmental training, interdepartmental training, and lunch-and-learn sessions. With the training programs, certifications are given to employees to recognize their achievements and their new skillset. The certifications include a mix of certifications for ABD's Ultra-Staff EDGE Staffing Software Suite and skills outside of it. The interdepartmental training specifically has also helped build greater team synergy by allowing the sharing of ideas between teams. Each team member can bring their knowledge and experience to the table for other departments to learn from.
ABD's nomination also included time dedicated away from the desk for social events and community service. Throughout the year the ABD team has both large and small events.  From baseball games and the annual March Madness Office Pool to World Cup Day and catered lunches, ABD makes it a priority to incorporate time throughout the year to take a break from work and enjoy time together.  In addition to social outings though, community service plays a big role in the culture at ABD. Every year ABD sponsors a 5K run/walk to support a scholarship program for high school girls in financial need. ABD team members participate in the walk together.  Additionally, ABD hosted Career Day for the high school girls participating in the scholarship program to educate the students about career opportunities in IT. Throughout the year they also made holiday cards and Valentine's Day Goodie Bags for the elderly and supported a team member's Oktoberfest fundraiser that raised funds for children with Spina Bifida.
"We have a phenomenal team at ABD who are passionate about the work they do every day," commented Terri Roeslmeier, President and CEO and Automated Business Designs. "We are so proud of the entire team and continue to strive to provide a culture they enjoy being a part of every day.  The Best and Brightest Companies to Work For award is truly theirs."
Automated Business Designs was recognized at Chicago's Best and Brightest Award Ceremony on July 13th at the Carlisle Banquets in Lombard, IL.
View the Official Press Release Here
Details about the Best and Brightest Companies to Work For® program are available at  https://thebestandbrightest.com/.
About Automated Business Designs
Automated Business Designs (ABD) develops the staffing and recruiting software solution, Ultra-Staff EDGE. Designed for temporary, direct hire, and medical staffing, Ultra-Staff EDGE allows you to seamlessly stay connected with clients and candidates through a robust all-in-one solution that includes front and back office, web portals, onboarding, mobile, data analytics, scheduling, and a labor dispatch module. ABD has been servicing the staffing industry for 40 years and has implemented 500+ staffing companies onto their platform across the nation and in Canada.
ABD is an active member of the American Staffing Association (ASA), National Association of Personnel Services (NAPS), Wisconsin Association of Staffing Services (WASS), New York Staffing Association (NYSA), TempNet Staffing Association, and board member status in the Illinois Search and Staffing Association (ISSA). Visit www.abd.net to learn more.