Automated Business Designs, developers of Ultra-Staff EDGE staffing and recruiting software, partners with Text-Em-All
March 27, 2019
Ultra-Staff EDGE staffing and recruiting software integrates with Text-Em-All, a complete, comprehensive two-way texting solution. 
Attention all staffing and recruiting teams in search of a better way of texting your candidates and clients!  The new Ultra-Staff EDGE integration with Text-Em-All is here to help.
Ultra-Staff EDGE staffing and recruiting software is now fully integrated with Text-Em-All's two-way text messaging and mass texting services.  Users of Ultra-Staff EDGE, will be able to send text messages and have access to all text conversations right from within Ultra-Staff EDGE! 
"Text-Em-All's integration with Ultra-Staff EDGE is the most complete text conversations integration we've seen yet", comments Jonathan Melton, Partner Manager at Text-Em-All. "Text-Em-All's Text Conversations have been integrated seamlessly as well as mass text messaging for when you need to contact as many people that's needed at one time."
To initiate a text conversation, the user simply goes to the candidate or client contact's profile in Ultra-Staff EDGE and selects the chat icon next to their mobile number. Ultra-Staff EDGE users are also able to send mass texts if you need to send a text to more then one person.  All outbound and inbound text messages are logged in the candidate or client contact's profile.
In Ultra-Staff EDGE there are 32 unique areas where a text can be initiated to facilitate any workflow combination.  It is all up to your preferences.  This workflow flexibility aligns with the user friendly, customizable interface of Ultra-Staff EDGE.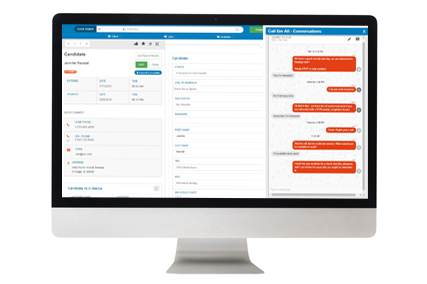 But there's more!  Ultra-Staff EDGE users have the ability to create templates to quickly send out text messages.  Users can access their created templates in their text conversations and can also search, edit, and delete templates.
Lastly, there are administrative functions! If you are a Text-Em-All Master Account Owner, you can view all text message conversations within your organization, mark them as "Done" or "Undone", start new messages, and see who has opted out to texts.
"ABD is thrilled to bring the integration of Ultra-Staff EDGE and Text-Em-All to the staffing industry," added John Roeslmeier, Vice President of ABD.  "Both of our organizations share the same passion for providing best of class solutions that provide the end users with one the most efficient ways to engage candidates and contacts."
With the Text-Em-All integration, the stage is set for Ultra-Staff EDGE users to have seamless two-way text conversations and mass texting abilities to help them build better relationships and fill jobs quicker, not to mention completely removing the manual work of tracking the content of these messages.
About Automated Business Designs
Automated Business Designs, Inc. (ABD) has been in business for 36 years, producing the staffing and recruiting software solution Ultra–Staff EDGE. Designed for temporary, direct-hire and medical staffing, Ultra-Staff EDGE helps you connect with candidates and clients utilizing a completely integrated front office, back office, web suite, and mobile staffing application.  It's trademark customizable and accessible interface is what signifies Ultra-Staff EDGE as a truly exceptional product.
ABD is an active member of the American Staffing Association (ASA), National Association of Personnel Services (NAPS), Wisconsin Association of Staffing Services (WASS), New York Staffing Association (NYSA), and board member status in the Illinois Search and Staffing Association (ISSA).
About Text-Em-All
Text-Em-All is the leader in mass texting and automated calling solutions, increasing effectiveness and efficiency for business and organizations looking to communicate with large contact groups.  Visit www.text-em-all.com to learn more.
Get Started Today
Ultra-Staff EDGE is the most complete front and back-office solution in the industry. Ultra-Staff EDGE offers a customizable user experience to make staffing software and recruiting more efficient than ever.
What you will experience in an Ultra-Staff EDGE demo:
A personalized demonstration of the software designed specifically for your company and industry
An overview of key features and functionality to see how your entire team would utilize Ultra-Staff EDGE
A powerful, unmatched ATS and CRM solution that will help your company increase profitability
How Ultra-Staff EDGE users benefit from an all-in-one solution with Front and Back Office, Web Portals, OnBoarding, Mobile, Data Analytics, and more