Beer, brats, and celebration with ISSA!
December 4, 2018
Beer, brats, and celebration!  The Illinois Search and Staffing Association (ISSA) 2018 Annual Meeting and Holiday Event was held last Thursday, November 29th at the Hofbrauhaus Chicago.  The event included elections for the coming year, motivational speaker Michael Hahn, and ended in a celebratory cocktail reception.  Everyone attending the event was encouraged to bring an unwrapped toy for charity for a chance to win raffle prizes! 
The meeting opened up with Diana Smith, the outgoing ISSA President, thanking everyone for coming to the event.  Diana also thanked the board members and general members for all of their services to the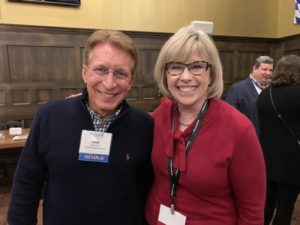 association.  Diana acknowledged the long term service and dedication of outgoing board members Terri Kosecki and Janet Sloan.  The meeting continued with the election of board members who will serve for a 2 year term, followed by the election of officers for the New Year.  John Seelander, the incoming President, thanked Diana for all of her service! 
All of this excitement was followed by a fantastic guest speaker and author Michael Hahn.  Michael presented "Hero Habits" and how you can be a hero in the workplace and at home. There were also many raffle prizes donated by supporting vendors that were distributed when you brought an unwrapped toy for charity.  This added an extra element of excitement to the evening!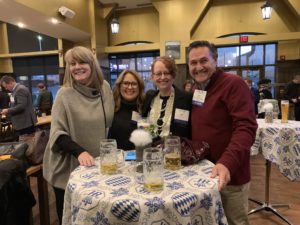 The evening completed with a lively cocktail reception that members, board members, and vendors all participated in.  Plentiful cocktails and delicious heavy German appetizers were served.  The meeting and holiday event ended on another high note as ISSA members enjoyed the company of vendors and partners.  Automated Business Designs was proud to sponsor the event, along with Assurance and Kronos.  We congratulate all of the newly elected officials and wish much success in the New Year to each of you!
There are many more exciting ISSA events planned for 2019!  ISSA will be holding a legislative event in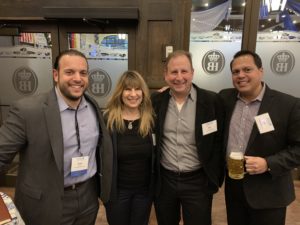 February and on May 22nd and 23rd; ISSA will be hosting the Midwest Staffing Conference at the Hyatt Regency Schaumburg.  If you are interested in learning more about the organization, please visit ISSAWorks.com.  You can also signup to receive e-mails about upcoming events that are open to both members and non-members. 
Automated Business Designs has been a proud partner of ISSA for many years and looks forward to the continued partnership for years to come.