Exceeding the Client Meeting
August 7, 2018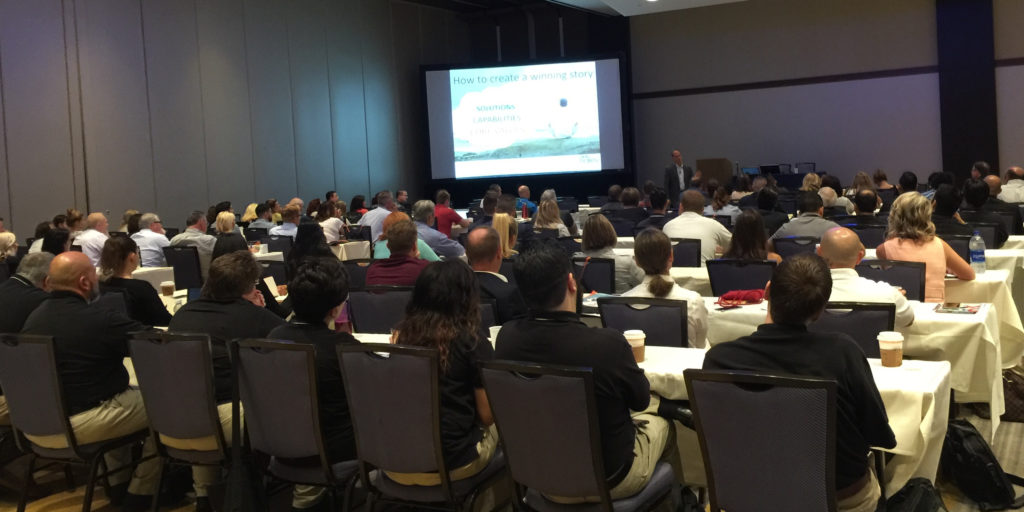 Every two years, ABD's robust user community descends upon the Hyatt Regency O'Hare in Rosemont, IL for an experience packed with new product unveilings, breakout sessions, and networking.  The 2018 ABD Client Meeting was one of the most exciting yet and took place on August 3rd. This year's theme, "Exceeding the Vision", perfectly captured the spirit of innovation that drives ABD's team to create exceptional software for the staffing and recruiting industry.
Festivities kicked off the evening prior with a cocktail reception welcoming clients. The reception took place at the legendary Ventanas, located at the top level of the Hyatt Regency O'Hare. The Ventanas provided a stunning 360 degree view of the area including Chicago's downtown skyline. Guests enjoyed a martini bar, hors d'oeuvres, and the opportunity to meet ABD's team and socialize with fellow clients. The night was capped in spectacular fashion with a live fireworks display.
Anticipation for the next day's events ran high. The Client Meeting launched with a Grand Opening Presentation featuring a video trailer showing the everyday dedication of ABD employees and their desire to do "Whatever it Takes" for client satisfaction. Following opening remarks, David Searns, CEO of Haley Marketing Group, delivered the Keynote Address which centered on how staffing companies can uniquely position their brand. The rest of the morning schedule consisted of new feature rollouts and upcoming enhancements to data analytics. Three awards were given to clients for Ultra-Staff Power User; Ultra-Staff EDGE Power User and the ABD Client Partner Award.  Among the highlights, Terri Roeslmeier, President of ABD, led an interactive session on how companies can take their automation to the next level.
The morning flew by and soon it was time for a lunch break. Attendees were able to fuel up for the afternoon with slow-cooked Pulled Pork, creamy Mac & Cheese, fresh Salmon, and honey buttered Corn Bread. During lunch, several ABD employees were presented with awards for their distinguished service and commitment to excellence.
For the afternoon sessions, attendees were able to customize their track by choosing from among several different breakout groups. The breakout sessions were packed with new content, product demos, training sessions, workshops, and user discussions.  The afternoon cookie break was also very popular!
The day concluded with a Grand Raffle. A few of the prizes raffled off to lucky winners included Uber cards, wireless headphones, Visa gift cards, and a Fitbit device.
A special thank you to the many vendor partners that supported the ABD Client Meeting! Haley Marketing Group was recognized as a Platinum Sponsor and served as the meeting's Lunch Sponsor. Clarus Solutions, also a Platinum Sponsor, leant their generous support for the Cocktail Reception. Asurint, a Gold Sponsor, supported the Registration and Continental Breakfast. We were also pleased to welcome Essential StaffCARE, a Gold Sponsor, who provided coffee, beverages, and snack breaks.  In addition, ABD partners were available at their tables to offer advice and information on their products and services.
Yet another client meeting has come and gone, but we are already looking forward to next one! See you in 2020!
As a side note, for those clients that were unable to attend, ABD will be holding selected virtual sessions.