Not Your Ordinary Staffing Owner and Executive Retreat
September 20, 2021
October 14th – 15th, 2021
When was the last time you experienced an owner/executive retreat that had a lasting effect on your success as a business owner or manager?  If nothing stands out, you may want to look into the Midwest Staffing Owners and Executives Retreat, sponsored by the Illinois Search & Staffing Association and the Michigan Association of Staffing Services.
Capture "the harmony of nature" and experience an Executive Conference that is nothing like you have ever attended.  So, what's different?  First, it will have all of the high-quality educational elements that you might expect at a conference of this caliber.  But then there is something that you will not get anywhere else.
We have all attended conferences where we have been enclosed in a stuffy hotel conference room, anxious and tuning out of half of the topics.  It's a big investment to attend an event and so often we are disappointed with the results.  That's why ISSA and the Michigan Association decided it was time to offer an "experience" worth investing in.
The event will be held at The Wingspread Retreat and Executive Conference Center which is located in the midst of 36 peaceful acres along the western shores of Lake Michigan, in Racine, WI.  This 14,000 square foot gem, was designed by the legendary architect Frank Lloyd Wright.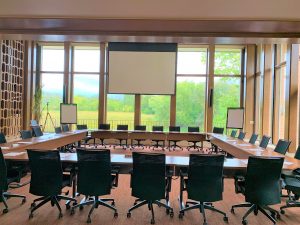 Your day will begin within a high ceiling, open floorplan meeting room with outdoor views bursting through walls of windows.  The Fall leaves will be colorful and the calm of Autumn will have begun settling in.  The setting screams with positive energy. Learn and collaborate in a whole new way.  Part of having the ability to enjoy content is to break away from the norm and absorb the topic.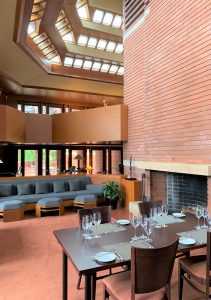 When you need a break, choose to meet with some colleagues or simply want to make a couple of calls, you have cozy break rooms available, many with great outdoor views.  There are also several patios that you can wander off to and take in the crisp air.
For lunch, join the outdoor tailgate, complete with a roaring firepit that will add to the ambiance.  Not your typical conference lunch (chicken and green beans almondine will not be served).
Late afternoon, take a free tour of the facility and learn about its' interesting historical significance.
Networking will be at its best as you have cocktails and dinner in an exclusive Frank Lloyd Wright setting.  Imagine, having dinner in a comfortable home setting with relaxing furniture.
Join in the outdoor fun after dinner as you relax around the firepit and have an opportunity to speak to colleagues or just reflect on the extraordinary day. Feel like a kid again as you partake in smores and social time.
Need a late-night snack?  Take a walk to the all-night pantry and grab some ice cream or a treat.  Everything is included.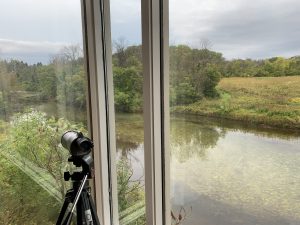 The next day, breakfast will be served in the charming and classic library.  Seat yourself with a delicious breakfast and enjoy more of the Fall views out of the floor to ceiling windows.
After breakfast, join the group activity and immerse yourself in the moment.
Next, absorb more information on critical and significant business topics that will help steer your business in the right direction.
Later, get advantageous insight from the special "Owners Panel Roundtable Discussion."
You really won't want to leave the peaceful and thought-provoking experience but alas it will be time to go.  Rest assured, you will take with you a goodie bag of fond memories and a wealth of good information for your business.  What a win!
Automated Business Designs, Inc. is a proud sponsor of this fine event.
Space is limited. Save your seat here!