The Most Attended Midwest Staffing Conference! Did you miss it?
May 31, 2019
On May 22nd-23rd, 240 staffing and recruiting professionals gathered together for what turned out to be the most attended Midwest Staffing Conference yet! The conference featured 10 different speakers, 17 dynamic presentations/breakout sessions, and 23 vendor sponsors. The atmosphere was bustling!
The conference is the largest in the Midwest and is co-sponsored by the Illinois Search and Staffing Association (ISSA) and the Wisconsin Association of Staffing Services (WASS).  This year's conference was held at the Hyatt Regency in Schaumburg, IL and featured the renowned keynote speaker, Scott Wintrip.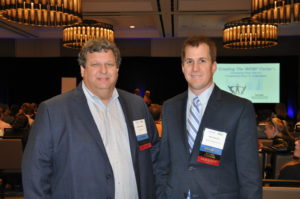 The first day kicked off with opening remarks from John Seelander, President of ISSA, and Tyler Emerick, President of WASS.  This was followed by four afternoon presentations from top-tier industry experts, including Paul Siker, founder and CEO of Advanced Recruiting Trends, David Searns, CEO of Haley Marketing, Claudette Cunitz, Senior Consultant and Career Coach of CC Advisors group, and Ric Delgado, Recruiting Technical Lead at Sterling Engineering.  The presentations focused on branding your company/clients, the four pillars of recruitment marketing, and why recruiting millennials is different! The afternoon ended with "Recruiting Centric Super Roundtables" that allowed attendees to ask the above speakers anything and everything they always wanted to know about recruiting!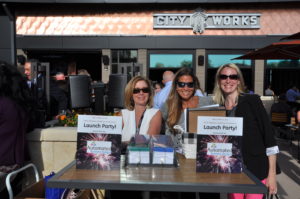 After the super roundtables, everyone walked next door to CityWorks' outdoor patio for the Midwest Staffing Conference Launch Party, sponsored by Automated Business Designs!  It was a beautiful 80-degree and sunny evening.  Here everyone had the opportunity to relax and mingle with speakers, sponsors, and other fellow guests!  The night was filled with networking, savory food, and refreshing beverages (90 craft beers on tap)! Guests even participated in friendly rounds of Bocce Ball!
After an exciting night of networking and getting to know fellow attendees, everyone was geared up for the 2nd day of the conference!  The 2nd day launched with an amazing Opening Video presentation, pumping everyone up to "Unleash their Greatness!"  Afterwards, John Seelander and Tyler Emerick once again gave opening remarks. John announced that it was Red Nose Day!  In support of the cause, he bought red noses for everyone to wear at the conference and post pictures on social media using the hashtags #RedNoseDay and #ASACares.  The American Staffing Association (ASA), donated $0.50 for every post.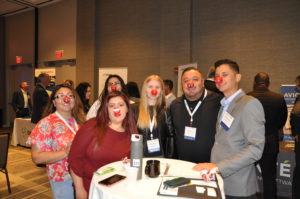 Keynote speaker, Scott Wintrip, then came on stage and unleashed HIS greatness with his presentation, "Just in Time Talent. Have the Candidates Your Clients Need Right When They Need Them."  He immediately engaged the audience with his opening dance, "The Hiring Shuffle." By the end of the presentation, everyone was out of their seats doing the hiring shuffle! During the keynote, Scott discussed the changing dynamics in today's competitive marketplace and how to navigate through them in order to meet the needs of customers quickly, while growing profits.
After the keynote, there were four concurrent workshop sessions held. In one of these sessions, Scott performed a continuation of his keynote presentation.  Other presentations included fixing the candidate ghosting problem, negotiating tactics & demands, and developing performance-oriented cultures.  These workshops were given respectively by Kevin O'Brien, Co-Founder and Partner of echogravity, Rob Mosley, Managing Partner at Next Level Exchange, and Bruce Hodes, President and Founder of CMI.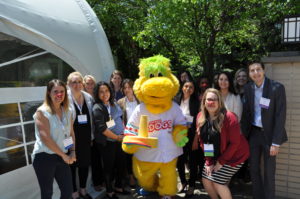 Following the morning workshops, everyone headed outside to a beautiful white tent for lunch.  The tent was elegantly decorated for the occasion! During lunch, Glenna Cose, with the National Association of Personnel Services (NAPS) gave an insightful talk about the industry.  Gail Robson with Banner Personnel also discussed an exciting ISSA event being held in June at the Chicago Dogs Stadium in Rosemont! Everyone will be heading to the ballpark for a game! As she made the announcement, an unexcepted guest strolled in—the Chicago Dogs Mustard Mascot, Squeeze!  Squeeze was excited to meet everyone and everyone was excited to meet him and take pics!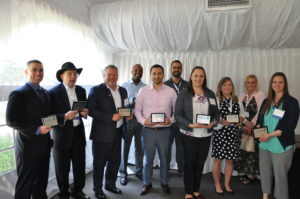 After all of this excitement, Terri Roeslmeier, ISSA Membership Chair, and Laura Sorce, ISSA Associate Executive Director, passed out ISSA Membership Plaques to all of the new members! John Seelander also presented Terri Kosecki from TKG Consultants with the 2019 ISSA Chapter Achievement Award for her years of dedication to ISSA!  Terri has been a long-time board member and served as president two years in a row.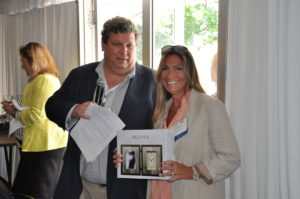 Succeeding lunch and during the course of the conference, attendees had the opportunity to visit the 23 sponsor/vendor tables and learn more about the service they provide to the industry.  To incentivize visiting the vendors, everyone was given a bingo card to be stamped at each vendor table.  If you received a stamp at each table, you were entered into the vendor raffle drawing! Each vendor gave away a raffle prize.
The last few hours of the conference ended strong with workshop sessions from how to get more clients, truths about our industry, to making great sales calls, and creating high performance teams.  Two additional speakers spoke in these workshops, John Skoutelas with echogravity and Brian DeCook, CEO of Two Fires.  John spoke about building your persona as a young staffing professional.  Brian DeCook discussed the power of conflict and how leaders can learn to harness it.
The conference wrapped up with the exciting vendor raffle drawing!  Everyone anxiously hoped for their name to be drawn!  Lavish prizes were given away from an Amazon Ring Video Doorbell, to Bluetooth speakers, to hundred-dollar gift cards!
As the conference came to a close, everyone was hyped up and excited to implement the tools and skills they gained at the conference into their everyday work.  Not only was the conference a place to learn from others in the industry, but it was a place to have fun and meet peers you never would have met. Now the waiting game begins, for next year's conference!