Unlocking the Power of Data: How Recruiting Analytics Software Transforms Talent Acquisition
June 5, 2023
When you think about staffing and recruiting, the first thing that comes to mind is probably not data analytics. You might think of people, candidates, hiring, jobs, interviews, clients, and more. Data analytics though can play a critical part in your everyday staffing operations by helping identify strengths, weaknesses, and improvements needed in your staffing business.
Think of data and its staffing metrics as a crystal ball. It allows you to look deep into your business and see where you are currently at, it helps predict where you are heading, and gives you insights into what must be done to improve your processes. Staffing companies that incorporate data analytics into decision-making automatically give themselves a competitive edge.
The power of data can quickly be unlocked as soon as you begin making data-driven decisions. It can streamline your processes, improve your candidate and client experience, and ultimately increase your ROI.  In this article, we will look at the role of recruiting analytics software in talent acquisition and how you can capitalize on your data to make informed decisions.
Key Benefits of Recruiting Analytics Software
There are many benefits to incorporating data analytics into your staffing and recruiting business. Recruiting analytics software can help you drill into your data to make informed decisions when it comes to your candidates, clients, and overall mission-critical decisions for your business. How can you find the best candidates for your clients and do it in an efficient time period? How can you keep clients happy and retain them as long-term partners? These are essential questions that staffing companies have at the top of their mind. Your own data can help answer these essential questions. Let's look at how analytics can help every step of your operation and ultimately help your bottom line.
Improving Your Hiring Efficiency
Staffing companies always want to improve their hiring efficiency. Analytics can help you dive into your data and see how you can streamline your hiring process for clients. A perfect example of this is looking at your average time to hire. If your average time to hire seems too slow, you can take a deeper dive into the problem to see where the bottleneck is in your process. Why is it taking so long to hire each candidate and how can you improve that time to hire for your clients? Finding how to reduce your time to hire will provide a huge boost in efficiency, as this staffing metric is generally one of the most important that a recruiter must consider, and this information can be found within your own data.
Another way to improve your hiring efficiency is by tracking your employee turnover rate. How quickly are employees leaving the companies you are placing them at? If you have a high turnover rate, why might that be and how can you improve it for your clients?
Enhance Candidate Quality
Staffing companies can also use recruiting analytics software to enhance the quality of the candidates they are bringing to their clients. Through data, you can track the performance and long-term success of candidates hired. If you continue to bring candidates that don't work out for your clients, then they will be less inclined to continue to work with you. Knowing the quality of the candidates you are bringing clients is essential for long-term client relationships. Look at the candidates that have worked long-term and see if you can identify a trend with these candidates. How can you recruit more quality candidates like them?
Improve the Candidate Experience
The candidate experience can also be improved by looking at drop-off rates and time-to-hire metrics. If a candidate isn't completing their application or "ghosting" you during the interview process, then perhaps these steps in your process need to be re-evaluated. If you're wondering how to measure candidate experience, this is a good starting point. By looking at your drop-off rates and time-to-hire, you can get an idea of where the problem might be coming from in your process and how you can improve that process for candidates.
Forecasting and Planning
Lastly, from a big-picture perspective, analytics can play a large role in forecasting trends when planning and strategizing for your company. For example, a revenue trends report and a revenue trend by category report can help you compare revenue from past years. You can identify where the most revenue is coming from and even break it out by month to see when your busier times are. Client billing reports can also identify customers that bring in the most billing. You can identify customers' highest billing month from previous years and also temp hours worked by customers. Are temp hours going up or down? All of this allows you to see the big picture of your business, where revenue is coming from, and what trends are happening.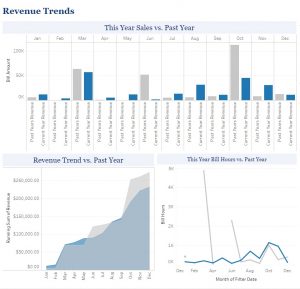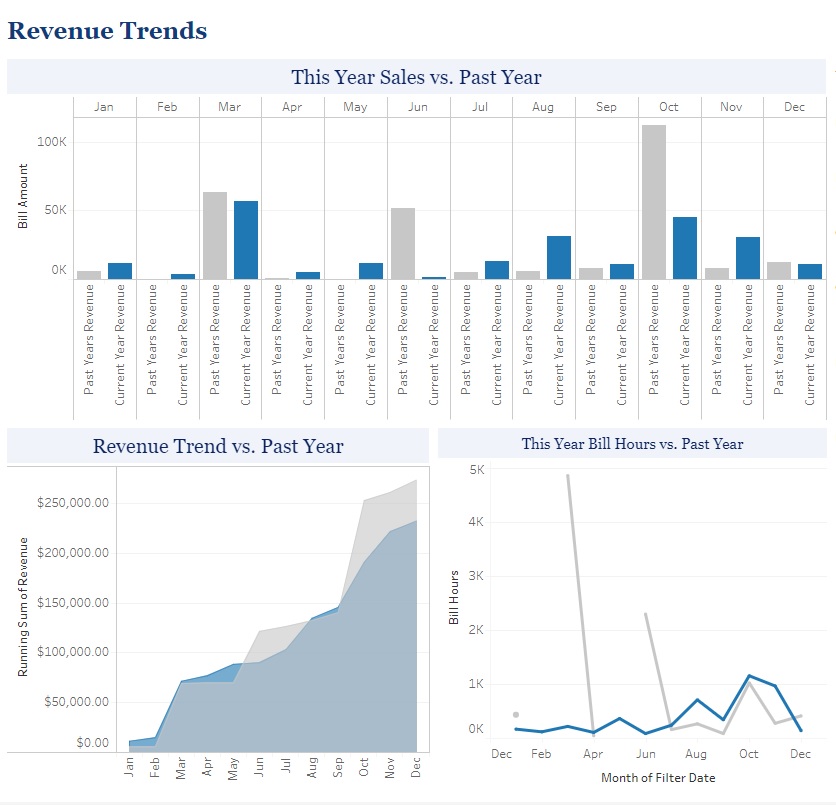 Crucial Recruiting Metrics and KPIs
So far, we looked at some of the key benefits of recruiting analytics software and how it can help drill into your data to make informed business decisions. Let's take a deeper dive into some of the staffing metrics mentioned above and other key metrics and KPIs that can be tracked.
Time to Hire
Time to Hire is important because it identifies the average time it takes to fill a position. You want this number to be as low as possible because it shows how long it takes to find a candidate and place them at a job. Clients want to fill positions as quickly as possible. The longer it takes, the less patient they will be to rely on you to fill their positions. As mentioned above, if you notice your time to hire is on the longer side, this is a good opportunity to identify why it's taking so long to hire a candidate and how this process can be improved.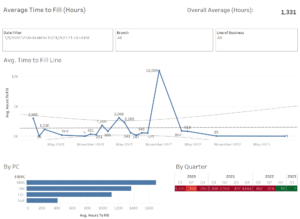 Quality of Hire
While you want an efficient time to hire, you also want to make sure you are bringing quality candidates to your clients. You can quantify the quality of hires by measuring job performance, evaluations, retention rates, and client feedback. This metric identifies how successful a staffing firm is at acquiring and hiring top talent. You can track the long-term success of candidates hired.
Turnover Rate
In conjunction with Quality of Hire, you can also track your average Turnover Rate. This measures the rate at which employees leave an organization over a given period. Your Turnover Rate can also help determine the quality of hires. Turnover is important for assessing employee retention and stability. A lower turnover rate indicates higher employee satisfaction and a more stable workforce.
*Time to Hire, Quality of Hire, and Turnover Rate can also play a role when marketing your staffing agency to potential customers. These are strong selling points when trying to gain new business.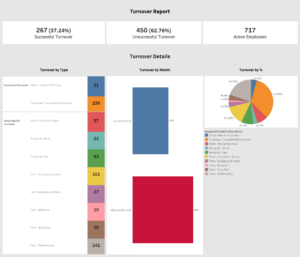 Source of Hire
Source of Hire helps you identify where your candidates are coming from. Are most of them referrals, from social media, or from a job board? Identifying your Source of Hire gives insight into successful ways you have found candidates. If one source isn't bringing in a lot of candidates, then you can focus on other sources that bring in more.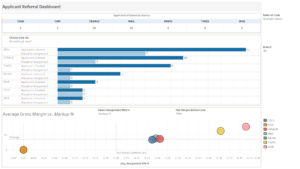 Cost per Hire
Cost per Hire identifies the average cost to hire a candidate. This can include money spent on job boards, advertising for a position, onboarding the candidate, etc. Your Cost per Hire can help as you set your recruitment budget to see how much you are spending on hiring expenses. If it seems too high, what costs can you cut back on?
How to Choose the Right Recruiting Analytics Software
To choose the right recruiting analytics software, you need to define your organization's analytical needs. What staffing metrics and KPIs are important for your organization to track? Once you outline your organization's needs, you can research different recruiting analytics software available. Key characteristics to look out for are features, how you can read and visualize your data, and if it integrates with your current staffing software solution.
Integrating with Your Current Staffing Software Solution
Integrating with your current staffing software solution will be essential. A good start would be to reach out to your current staffing software provider and see if they have an analytics software partner that integrates with their solution. All of your data is stored within your ATS and CRM, so it will be a must to be able to connect analytics software to your data. Having this connection also allows data to seamlessly flow into your reports and visualizations without needing to do anything. All of your key staffing metrics can be viewed in real-time.
User Experience
The user experience is a big factor when choosing the right recruiting analytics software. Evaluate the user interface and ease of use. Look for a solution that is intuitive, allowing users of varying technical abilities to quickly adapt and utilize the software. If it is too complicated to use, then you will find yourself in a situation where no one utilizes it. Additionally, you will want a solution where you can easily extract the insights from the data into a PDF, Excel Document, or CSV.
Accessibility
The software should also be easily accessible through a web browser, mobile device, or dedicated apps for convenience and flexibility. This way no matter where you are, you can quickly view insights into your business.
Data Security
With any software solution, you want to make sure your data is protected, especially when you are working with highly confidential information in staffing. Check with the analytics software provider to see what security measures are in place, such as encryption and compliance with data protection guidelines.
Vendor Support and Training Resources
While you want the software to be easy to use, you also want support to be easily accessible when questions arise. Additionally, good training resources are important for both learning the software and for ongoing training. When evaluating analytic software solutions ask about support and ongoing resources available to you to help you succeed and advance your analytic skill set.
Conclusion
As you can see, there are countless benefits to adopting a recruiting analytics software solution for your staffing company. Staying on top of key metrics will help you make informed decisions and see insights into each step of your recruiting process. As soon as you begin implementing data analytics, you will quickly unlock the power of your staffing data.
Ready to begin implementing recruiting analytics into your day-to-day operations? Schedule a demo of Ultra-Staff EDGE Staffing and Recruiting Software to see how an all-in-one staffing and recruiting software solution can provide key insights into your business.