Whitepaper
How Staffing and Recruiting Automation Can Make You Money
Having an exceptional staffing software solution is crucial for the staffing and recruiting industry.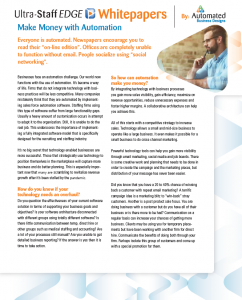 Benefits of Automation:
• Gain more sales visibility
• Become more efficient
• Maximize on revenue opportunities
• Reduce unnecessary expenses
• Foster higher margins
Find out how powerful technology can take you to the next level of revenue with our free whitepaper.
Fill out the form below to download the 'How Staffing and Recruiting Automation Can Make You Money' whitepaper now!