10 Staffing Software Essentials
October 9, 2013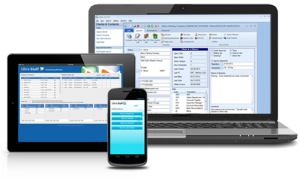 Staffing and recruiting software is an integral part of any competitive staffing firm. Company growth, profitability and high market share are impossible without use of an enterprise staffing software solution.
What are the "got-to-have" features to look for when considering an enterprise solution?
1.)   Candidate Onboarding with electronic signature for forms.
In order to handle any type of volume, candidates need to be processed, classified and identified in a fast and efficient manner.  Candidate information must be securely stored and easily located.
The expectation is that the staffing firm will have an electronic means for candidates to apply from a staffing company's website.  Candidates want an easy way to scout out opportunities.  Most prefer applying for jobs on-line, and at a time that is convenient for them.  Offering this service will bring more high quality applicants into the pipeline and allow you to work with a richer candidate database.  This is a tremendous time savings.
2.)   Resume Parsing
The ability to parse resumes to automatically create applicant records saves time, is more accurate than data entry and allows you to build a database of searchable candidates.  Most processors can parse resumes right from your email in-box, from job boards and more.
3.)   Mobile Access
The ability to access your database from your phone or other mobile device allows you to stay productive and responsive even when out of the office.  In the competitive world of staffing, this is invaluable.
4.)   CRM (Customer Relationship Management)
Although CRM is primarily associated with client and applicant "last contacts" and "follow-ups", true CRM offers much more.
A true CRM brings together notes, email logging, assignment and interview activity, plus billing and payroll information.  It allows departments to communicate on important client matters such as collection and credit, sales, and payment history.  This also improves service to customers and candidates who may call with questions about invoices and checks.  The byproduct is time savings, customer service and better cash flow.
5.)   System's Ability to Handle Contract and Direct Hire Business
Although contract and direct hire work harmoniously to serve client and candidate needs, each are a totally different type of job order.  Systems that handle the two as such will allow you to focus on the specifics of each type of business, yet gain the benefit of sharing information when appropriate.
6.)   Social Media and Job Board Integration
The ability to post job order and candidate information from your staffing software or bring in resumes from popular job boards is essential if you utilize these types of services.  Why double your effort when the process could be seamless?
7.)   Candidate Portal
Self-service portals for candidates are commonplace.  What candidate doesn't appreciate the ability to enter their time on-line, view schedules, enter availability, view checks and even reprint W2's?  Some portals even allow this from a mobile device.
8.)   Client Portal
Clients expect that they can look up invoices, retrieve reports and approve time on line, and even from mobile devices.  Any firm that offers contract services will find this tool a necessity.  It not only is a highly valued customer service item, but this saves your firm a tremendous amount of time and makes the process more effective and efficient.
9.)   Dashboards
"A picture is worth a thousand words".  What busy executive doesn't appreciate an "at-a-glance" view of the business?  Even better, a true dashboard allows you to drill-down for a detailed view.
10.)  Integrated Back Office
The benefits of an integrated back office cannot be underestimated.  This piece completes CRM.  Integration assures quality, eliminates duplicate entry, saves time and improves business reporting.  Customer service immediately improves as data is made available to all essential personnel. Decisions are better and business forecasting becomes a reality.
Does your Staffing Software provide all of these tools? If not Contact ABD to receive more information.

Terri Roeslmeier is President of Automated Business Designs, Inc., software developer of Ultra-Staff staffing software for the staffing and direct hire industry. Ultra-Staff is a full-featured business solution with components for front office, back office, mobile and web suite. For more information on Ultra-Staff go to www.abd.net.